Fashion is all about authenticity and uniqueness, and accessories are no exception. Pairing the most classic of accessories – the watch – with the most classic of materials – wood – JORD Wood Watches were designed to be timepieces worth having a conversation about.
We got our hand on the Hyde Walnut & Black JORD Wood Watch, and it is an absolute beauty! Unboxing it from its gorgeous wooden case,
it was an accessory like no other. Their cool watches are meticulously crafted with natural wood from the world over, treated with a specialty natural finishing oil to protect its grain. The quality and craftsmanship is evident hands-on and is only matched by the diversity in their range of offering.
Both their men's and women's wooden watches offer gorgeous, almost-artistically complex beauties such as their Sawyer series, as well as clean, minimalistic, and equally gorgeous timepieces such as their Hyde series. This variety of ranges means there's JORD wood watches suited to just about everyone's unique sense of style.
There's just something so beautiful about the refinement of raw material – be it diamonds or wood. When coupled with sapphire glass and premium quartz, chronograph or automatic movements, it becomes more than a fashion statement – it's statement about sustainability, experimentation, fusion, time, quality, and identity.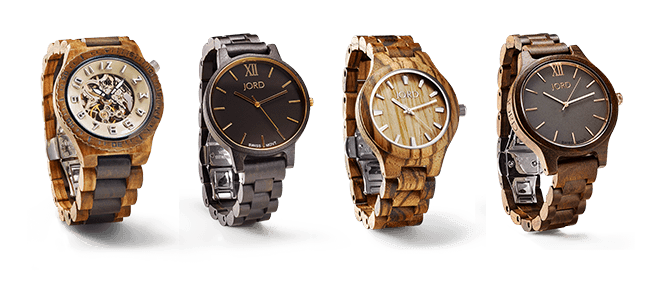 Be it to make a statement or provoke conversation, these compliment-worthy wood watches (I got a few within the first hour alone!) help you effortlessly stand out from the crowd.
Want your own gorgeous wood watch? We're giving away a $100 gift voucher towards your own JORD watch! Just click here to enter. Even if you don't win, you'll receive a $25 gift voucher just for entering!